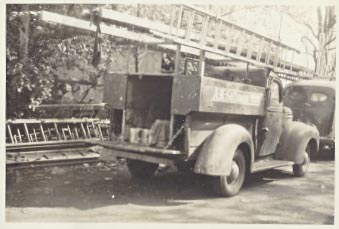 Salmon Signs has
a rich history dating back to 1935.


In 1935, Albert Salmon established Salmon Outdoor Advertising in Moorestown, NJ. The company specialized in billboards for clients like Sears.
In 1955, when Albert passed away, his four sons (Herb, Walt, Jack and Harry) expanded the business and moved it to Glassboro, NJ. They named the business South Jersey Advertising Company. After a number of years, the three oldest sons left the business for other ventures. This left Harry Salmon as the only Salmon left in the sign business.
South Jersey Advertising Company was a lucrative small business that was bought out by the largest outdoor advertising company in South Jersey. After the merger, the business lost the family flavor; so in 1960, Harry broke off and started his own company: Harry P. Salmon Signs.
Harry set up Harry P. Salmon Signs in Pitman, NJ. He bought an empty building at 478 W. Holly Ave., which is where the business still resides today. This move was an attempt to recreate a family-style sign business.
Harry ran the business from 1961 to 1971. In 1971, Harry's son Richard (Dick) Salmon joined him, and they changed the name to Salmon Signs. Within a year, Dick became the sole proprietor.
From 1972 to 2020, Dick ran Salmon Signs. Like his father, Dick was gifted at hand lettering signs. Eventually, Dick oversaw the transition from hand-lettered signs to digitally-generated graphics. Under Dick's leadership, Salmon Signs grew and expanded. The company serviced countless local townships, Little Leagues, small businesses, local elections, and much much more. They also served clients up and down the East Coast. The Salmon Signs crew even lettered Jon Bon Jovi's touring vehicles and made the infamous "Keep Christ in Christmas" banner that hangs in downtown Pitman every holiday season.
Sadly, Dick passed away in April 2020 at the age of 76. He dedicated more than 40 years of his life to Salmon Signs. He was Salmon Signs to many, and he is greatly missed. He left Salmon Signs to his two sons, Dick Jr. and Neil.
Today, Salmon Signs is in operation under the leadership of Dick Jr. and Neil. Daily operations are overseen by Neil's wife, Erica. They hope to keep their family's legacy alive as the company prepares to celebrate its 60th anniversary in 2021.